Trimworks offers a wide variety of different profile and sizes to choose from. Scroll though to see all of our in stock Crown Molding profiles we have to offer. We also have custom made to order profiles as well. Pictured is our 6 3/4" (#270) Crown Molding Profile with Decorative Corners. We also have many other Crown Molding options that are made to Order, give us a call to set up an estimate to view all our Crown Molding Profiles.

5 1/4" Colonial Crown Molding

Pictured is our 5 1/4" Colonial Crown Molding with Decorative Corners. This profile is offered in several other sizes including a 7 1/4".

5 1/4" (#271) Crown Molding

This 5 1/4" Profile is also available in a 6 3/4" as well. This nice sleek design is one that would compliment any home very well.

5 5/16" (#60) Crown Molding

This 5 5/16" Crown Molding Profile is a beautiful decorative molding. We have a 7" Crown Molding that compliments this smaller one very well. Our Standard Corner option is shown here.

5 1/4" Cove Crown Molding

This 5 1/4" Cove Crown Molding is one of our newest profiles. This option can be done by itself or as a Built Up Crown too. Any of our Crown Moldings are available for Built Up options. Our Standard Corner option is shown here.

Our 6 1/4" Crown Molding is also available in a 7 3/4" too.

Pictured with our Decorative Corners is one of our 7" Crown Molding Profiles. This profile is often paired with our 5 5/16" (#60) Crown ​Profile as well. It is a nice decorative profile that would dress up any home.

7 1/4" Colonial Crown Molding

Pictured is our 7 1/4" Colonial Profile. This profile is available in multiple other sizes as well.

Shown is another one of our 7 1/4" Profiles. This is a profile I personally like. It is still a nice simple profile, but has just a little more detail than the Colonial Crown profiles.

Our 8 1/4" is one of our newer Crown Molding Profile. This crown molding will make a grand statement in any home!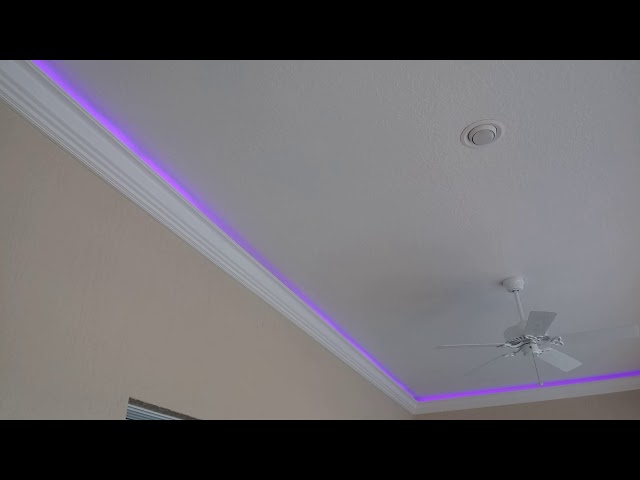 Crown Molding with LED Lighting

Accent any room or Lani with our Lighted Crown Package. These great option is perfect to make your Lani the talk of the town and a hit of mood lighting in the bedroom too. LED lighting is also available to install in tray ceilings. See our Ceiling Treatment page for more pictures. Call today to schedule an estimate.

Crown Molding Completion Photos

Before 8 1/4" Crown Molding was installed over cabinets and stove hood.

To the right you see the finished result. Trimworks Paintworks installed this amazing 8 1/4" Crown Molding in this new home.

Add a touch of elegance to the bump out features around your door openings. Crown Molding added to the top of the opening gives this area a simple yet beautiful look.

Baseboard Completion Photos
Crown Molding in Master Bathroom of Home

TRIMWORKS PAINTWORKS guarantees all profiles on any of our moldings will match perfectly on all corners, vaults, and angles. We offer a lifetime warranty on all of our installs. We use High Quality products for a High Quality finished product. Let our team of professionals take care of you. Give us a call for your free in home estimate today!

/